2015 TROPICAL SEASON FORECAST!
Here is my thoughts on the 2015 Atlantic Basin Tropical Outlook!  
I am using my Rating System above under the Tab "Tropical Prediction Analysis" to rate each category as outlined and with reasoning to back each rating.
  The Graphic directly below shows the Global trend with Hurricane Days for the Globe.  Although this is in no way completely shows the exact graph for the Atlantic Days one can see that when following a low time it seldom goes straight to the top at a peak as it does not occur until a 2-3 year climb.  So, i am lead to believe that this will likely be a slower than average season!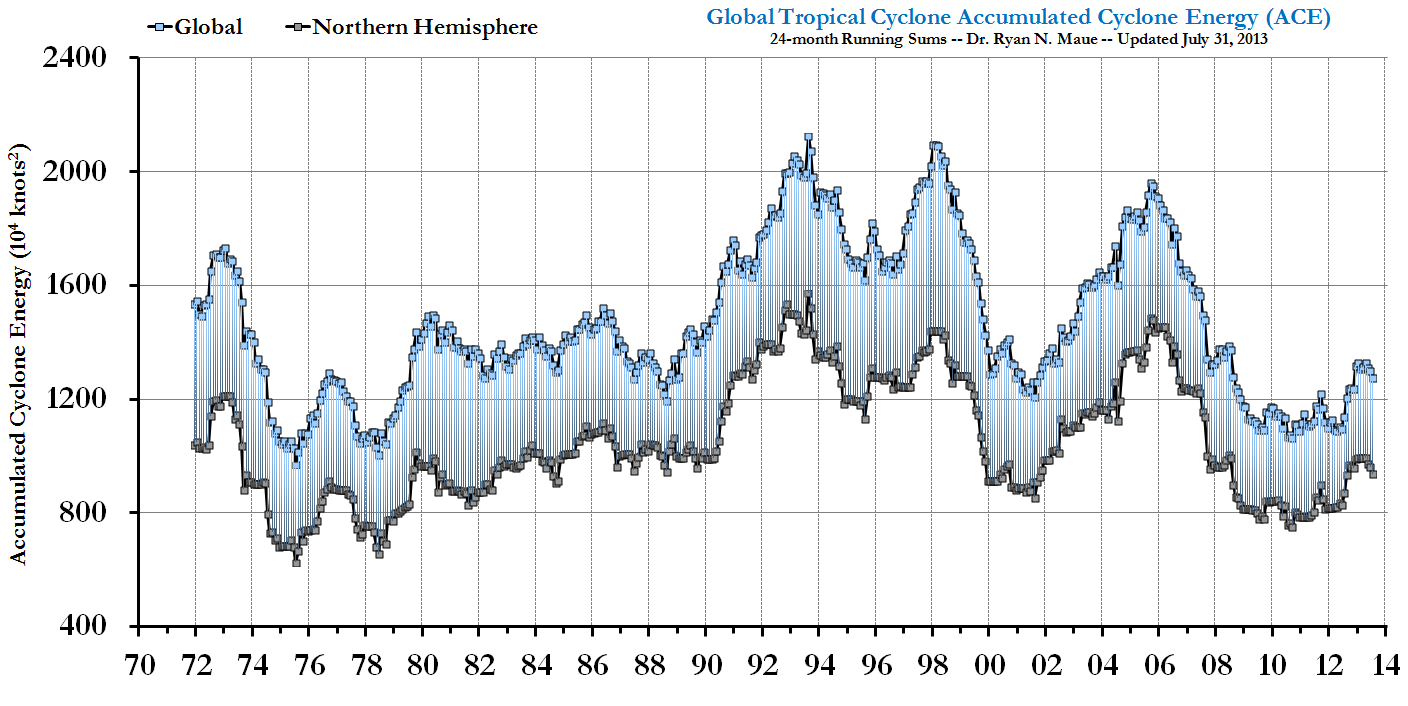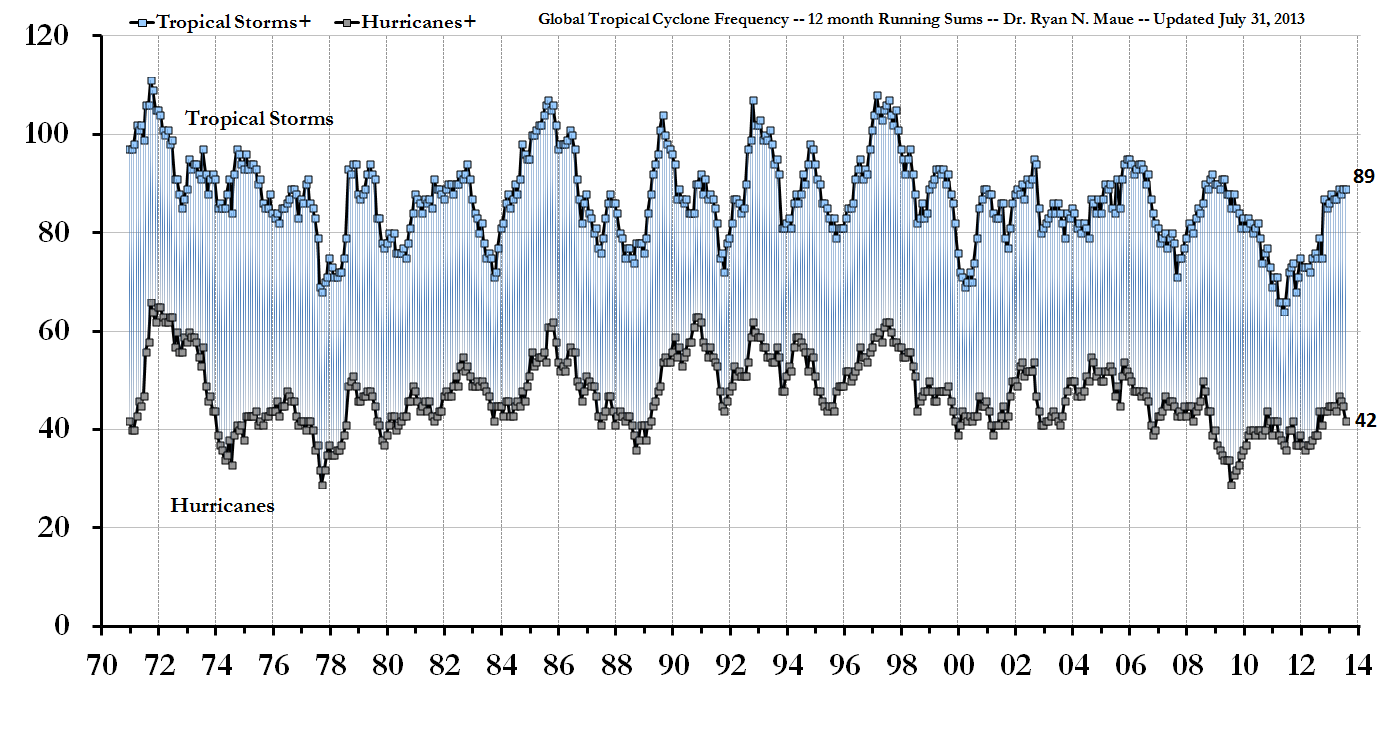 SEA SURFACE TEMPERATURES-3 rating
When looking at the Sea Surface Temperture Anomaly and the Ocean Heat Content grapic below the Caribbean the Gulf of Mexico is running above average while the MidAtlantic is running below normal for Tropical Development!
SHEAR-4 rating
Shear seems to be running about normal to slightly above normal.  With the forecast of possible ElNino conditions, this would tend have Above normal Shear.
SAL-SAHARAN AIR LAYER-7 rating
This is very difficult to figure out the amount of Dry air and Dust that will be in the Atmosphere during the season.  But, my best analogy on recent trends would lead me to believe that less dust is possible because the abundance of Rain in the African region!  This would tend to produce less dust storms.  Also current Dust seems below normal.
PRESSURE-4 rating
Again this is very hard to set a value but, most documents and findings indicate that the Atlantic as a whole is running slightly above average with current conditions.  It is very difficult to project what the trend will be later but, to only base it on the current trend.
BERMUDA HIGH POSITION-7 rating
The Bermuda and Azores High is another very complicated item of focus to predict.  But, based on what it should do in ElNino conditions and where it already is located i have to give this a higher than normal rating.
MJO-5 rating
Again another very difficult forecast focus.  MJO is basically moisture in the Atmosphere that circles the globe about every 30-60 days.  We will currently go into a higher MJO position so if 30-60 days out would tend to put us in another uplift position starting about July into August.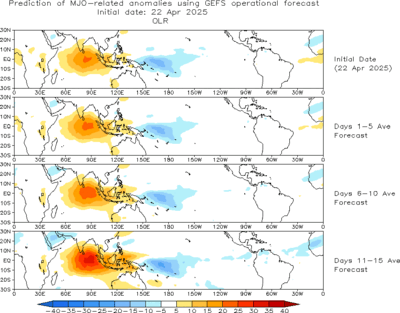 CAPE VERDE LOWS SPINNING-5 rating
One never knows on this other than current trends!  The current trend has not seen strong spins coming off of Africa!  Although last year the trend was not so strong rotation off of Africa.  I will continue with that current trend in my rating.
LOCAL BREED-8 rating
With the current trend of warmer GOM SST's i am giving this a Higher than normal rating.  Again very hard to tell but, with the above Average SST's currently it would be very hard to give this a below average rating.
HISTORY TENDENCY from ESNO-3 rating
I have given this a very low rating based totally on the trend over the last several Years from ElNino conditions.
VOLCANIC RELEASE-5 rating
I have given this an average rating.  I have based this on the amount of release from Valcano erupting in the Northern Atlantic.  This has to play some effect with the season in my opininon.  Although this may not be very significant, what little has been released into the Stratosphere could deflect some sun light and cause some cooling as some of the dust one would think has drifted into the Lower Atlantic.
Summary:
Based on my rating system and plugging the numbers together, my best estimate for the 2015 Atlantic Basin Tropical Outlook is for:
72% chance of Below Average Conditions leading to
7 Named storms--the average is 9.6
4 Hurricanes--the average is 5.9
2 Major Hurricanes--the average is 2.3
I will enjoy hearing the debates of my thoughts and keep in mind these trends can change!
Thanks,
Tim
Categories: MAY 2015, TROPICAL WEATHER THREAT BLOG