TampaSpins TROPICAL WEATHER ANALYSIS
READ MY COMMENTS AND OTHERS FOR UPDATES ON THE TROPICS. PLEASE LEAVE A COMMENT!
Areas of Interest (AOI) from the National Hurricane Center
This product is updated at approximately 2 AM, 8 AM, 2 PM, and 8 PM EDT from June 1 to November 30. Special outlooks may be issued as conditions warrant.
Tropical Weather Outlook (en Español*)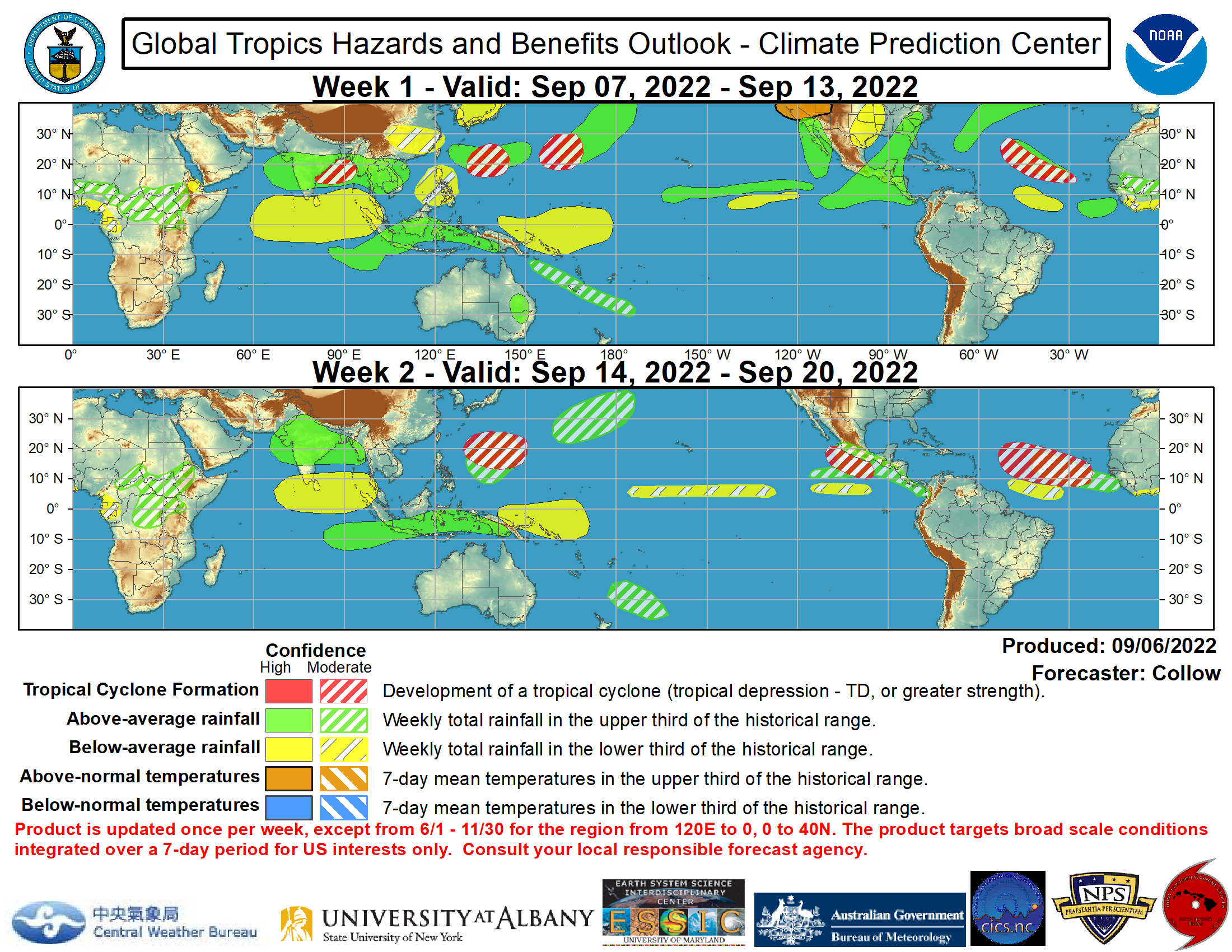 Sea Surface Temperatures or SST's 80 degrees Fer.
or 26.5 degrees Celcius is the Temperature needed for Tropical Development Normally! 
IR Shortwave Image - Java - Flash
IR Funktop Image - Java - Flash
IR Rainbow Image - Java - Flash
Water Vapor Image - Java - Flash
2014 Named Storms:
Arthur, Bertha, Cristobal, Dolly, Edouard, Fay, Gonzalo, Hanna, Isaias, Josephine, Kyle, Laura, Marco, Nana, Omar, Paulette, Rene, Sally, Teddy, Vicky, Wilfred 
TampaSpins Blog
Graphic Analysis:
The blog section will have less graphics about each storm but, all will be referenced to the Tropical Weather Tab for more graphics.
Below are some links you might like for helping your own analysis:
SHORT RANGE Computer models
Look at this This is my Favorite LOOP! It is my favorite for viewing the Tropics.
Cyclone phase evolution: Analyses & Forecasts
Right Click and Open a new Window!
Current Shear

Right click and open a new window to Loop!
Steering Layer 700-850mb or
1000mb pressure 45kts storms
Steering Layer 500-850mb or
990-999mb pressure 45-60kts storms
Steering Layer 400-850mb or
970-989mb/60-90kts storms
Steering Layer 300-850mb or
950-969mb pressure 90-112kts storms
Steering Layer 250-850mb or
940-949mb pressure 112-122kts storms
Steering Layer 200-700mb or
940mb pressure 122kts and larger storms
850mb Vorticity
700mb Vorticity
500mb Vorticity
200mb Vorticity
Upper Divergence
Lower Convergence
SAHARAN AIR LAYER
Data provided by National Data Buoy Center
NAM MODEL
Remember the National Hurricane Center are the Professionals and identifies the Tropical Season from JUNE 1st THRU NOVEMBER 30th!
SINCE YOU ARE READING THIS YOU ARE A MEMBER! DON'T FORGET TO USE THE INSTANT MESSENGER AND SIGN IN. ITS A QUICK WAY TO SEE WHO IS ONLINE FOR INTERACTION WITH OTHERS!
I really appreciate the great comments you all leave. I try to always reply back if you leave a question or a REQUEST. And please leave comments on the Blog good or bad as all are welcome.
Thank you all for visting my Blog,
Tim...

Categories: TROPICAL WEATHER THREAT BLOG